PRODUCTS

<![if !supportLists]>§ <![endif]>Seed Varieties and Seed Descriptions
<![if !supportLists]>§ <![endif]>Flames of the Holy Spirit Hot Sauce
<![if !supportLists]>§ <![endif]>Hot Pepper Jelly
<![if !supportLists]>§ <![endif]>Hot Pumpkin Seeds
<![if !supportLists]>§ <![endif]>Ristras
<![if !supportLists]>§ <![endif]>More Products
<![if !supportLists]>§ <![endif]>And much more coming soon!
We're looking for your photos!
Share photos of your chile products and plants and we'll post them here.  Feel free to add a caption for your photo – tell us about your secret ingredient, proven method or innovative idea!
<![if !vml]>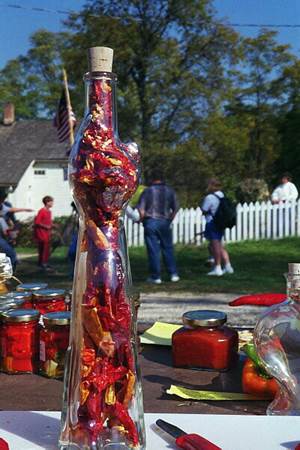 <![endif]>
Here are a few examples of products made by Jimmy's Chiles:
Here are some 40 ml Onda (wave) bottles containing some dried Jimmy's Chiles products.  Contents are all finely ground.  On the far left we have yellow chiles and salt.  The middle Onda bottle includes dried red tomatoes, dried red chiles and salt.  The last botton includes dried yellow chiles, dried yellow tomatoes, dehydrated paw paw and salt.  The chile pepper to the right of these bottles is the Rocoto chile pepper, a round red chile.
<![if !vml]>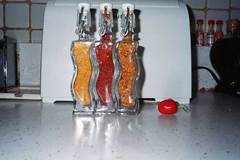 <![endif]>
Pictured below on the left, nothing beats roasting some pumpkin seeds on an outdoor grill with sea salt, celery salt, lime juice and chile peppers on a sunny autumn afternoon (can you smell the mesquite and hickory chips?).  The secret to doing this on a grill is to stir the seeds often; otherwise you risk burning the pumpkin seeds on the bottom.  The flavor of these pumpkins seeds is outstanding!  The ones you buy in a store where all of the pumpkin seeds have that weird coating of funny-tasting salt just don't compare.  Indeed, I can't even eat those anymore.  I encourage you to try roasting your own pumpkin seeds someday and let me know if you agree.
<![if !vml]>
<![endif]>    <![if !vml]>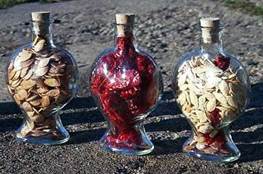 <![endif]>
Once the seeds are roasted, they need to be stored somewhere – like in a Ziploc bag, or hey, how about a heart-shaped glass?  Amore!  In the photo on the right, the heart-shaped glass on the left contains mesquite and hickory-smoked pumpkin seeds that were roasted on a Weber grill, while the seeds on the right were roasted in an oven (hence, the color difference).  Hey, someday I am unable to roast on a grill!  The middle heart-shaped glass contains dried red chiles, mostly Aci Sivri chiles.
© 2015 JIMMY'S CHILES. All rights reserved.
Includes all content and photos.
Last Updated:  19-May-15